Published on October 2017, the "Graffiti Style Coloring Book", put together by Editors  Björn Almqvist & Tobias Barenthin Lindblad is pages of Artwork by more than 50 of the world's best graffiti writers. Nover's Wildstyle piece is featured in this amazing book and used as one of the promotional pictures for many art sites.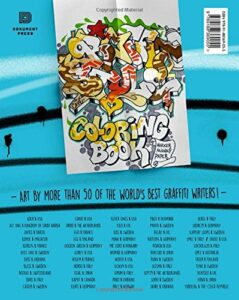 The Graffiti Style Coloring Book is the real thing – it's not copying a graffiti "style", it's real graffiti.
This coloring book is an excellent way to start out in graffiti. Explore the medium, be creative, make an impact and immerse yourself in the world of graffiti. The Graffiti Style Coloring Book offers a relaxing approach to coloring at the same time as it is an informative art collection.